This year for Valentine's Day, my girlfriend, a group of friends, and I decided to go to the French Laundry for celebration. Growing up from a lower-middle-class family, I absolutely could not justify spending a copious amount of money on a single meal. However, pursuing a career in software engineering provided me with a comfortable income and I started relaxing my frugalness towards food. Combined with having friends who are religiously passionate about food pushing me to try expensive food, I finally caved in and agreed to go to the French Laundry. It's a special occasion, anyways.
Owned by esteemed chef Thomas Keller, the French Laundry is located in the bougie town of Yountville, California, in the Napa Valley. Originally, the historical building was a French steam laundry, hence the name. The town it situates in feels very upscale with the demographics strongly leaning towards old white people. Thomas Keller also owns two other fancy restaurants (Ad Hoc and Addendum) and a bistro (Bouchon Bakery, Bouchon Bistro). Since there is only one main street with a handful of restaurants, he pretty much runs Yountville.
The French Laundry has somewhat of a mythical status since it has been praised as "the best restaurant in the world" at one point. Even frugal me has heard of the French Laundry. I mean, they have 332k followers on Instagram. Additionally, many successful Michelin Star chefs worked there before spawning their own restaurants. Knowing all this, of course, I had some pretty high expectations and was unsure if they could be met.
The day finally came and we drove to Yountville from San Francisco. Upon arriving, we see a very ordinary building that just looks like someone's residence. It felt quite underwhelming, and I thought to myself, "This can't be it right? It's so normal looking...". However, once we entered the courtyard, it's evident this place is extremely cared for and is indeed quite fancy. As soon as we arrived, the staff greeted us, and after noticing we were walking around taking pictures of the courtyard, they offered to take a group picture for us. We gladly accepted.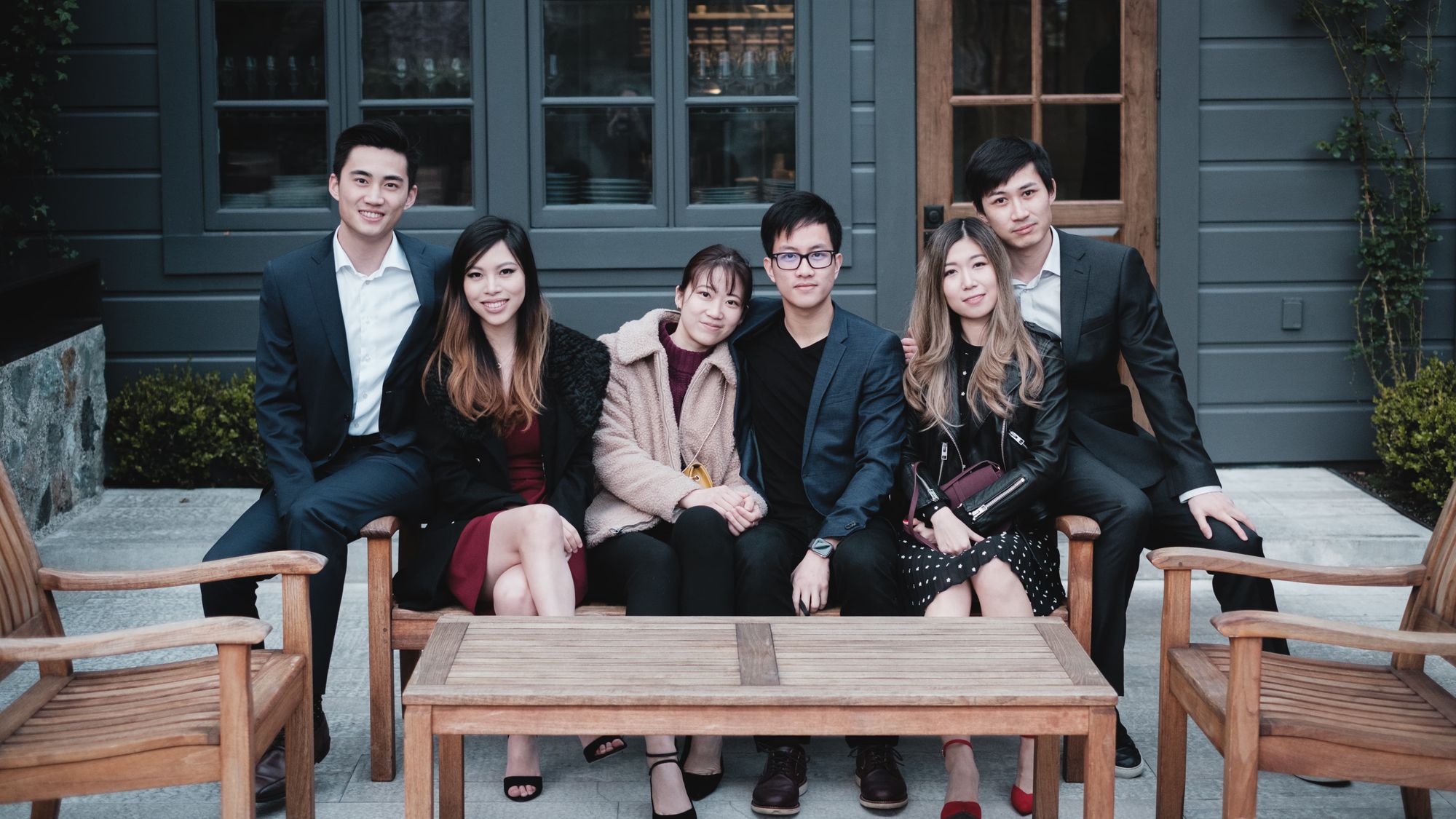 Afterward, we entered the main building and got seated at the center round table in the room. The overall ambiance and decor of the room were upscale, but not pretentious. It felt somewhat modest, but everything seemed precise and intentional.
We flipped through the wine menu given to us and decided to have tea instead since wine pairing was ridiculously expensive and none of us understood wine anyways. While looking at the tea menu, we noticed none of them had a price beside it, and thus weren't sure whether they were complementary or there's some kind of known pricing and we're ignorant. We really wanted tea, but the prestige of the restaurant really intimidated us and we didn't want to look like a bunch of low-class idiots asking whether tea was complimentary. After arguing who should ask about the tea, we decided to duke it out with rock paper scissors and loser asks whether the tea is complimentary. Of course, I lost, and we finally figured out tea was complimentary. In retrospect, it wasn't even that big of a deal to ask (the staff is super nice), I just felt out of my element in a place so fancy.
Over the course of the entire 3-hour meal, we shamelessly ended up trying out 8 different types of teas. There was one tea that really stood out to me, and that was the tea I call "the umami tea". I don't remember the exact name of the tea, but the menu described the tea to be umami flavored. There were absolutely no expectations for this tea since I don't ever recall drinking tea that tastes umami. Although, to be honest, I don't know how I would describe how any teas taste anyways. Once we received the tea, I took a whiff and was taken aback since it smelled like beef soup. But there were leaves in the pot. I took a sip and it was... interesting - it was very bland in taste, with a hint of umami, completely unlike any tea I've tasted before. There's no way I would have thought this was tea in blind taste tests.
Enough rambling about tea, let's talk about the food. The entire dinner consisted of 9 courses and not a single ingredient was reused. If you think about it, that's quite an impressive variety of ingredients - there are at least 50+ unique ingredients used in this one meal. Much of the veggies come fresh from their own greenhouse and farm across the street.
The dishes themselves felt like classic French dishes and I didn't feel like there was anything that was highly creative. Don't get me wrong, everything tasted excellent and were far more refined than standard French restaurants, but nothing particular blew my mind. It would be exhausting to read my experience with every dish, so I'll just leave the menu here. Quite frankly, I also just can't remember my experience with every dish anyways since I was overwhelmed with tastes. Overall, I thoroughly enjoyed the food and felt quite full even before being served the dessert.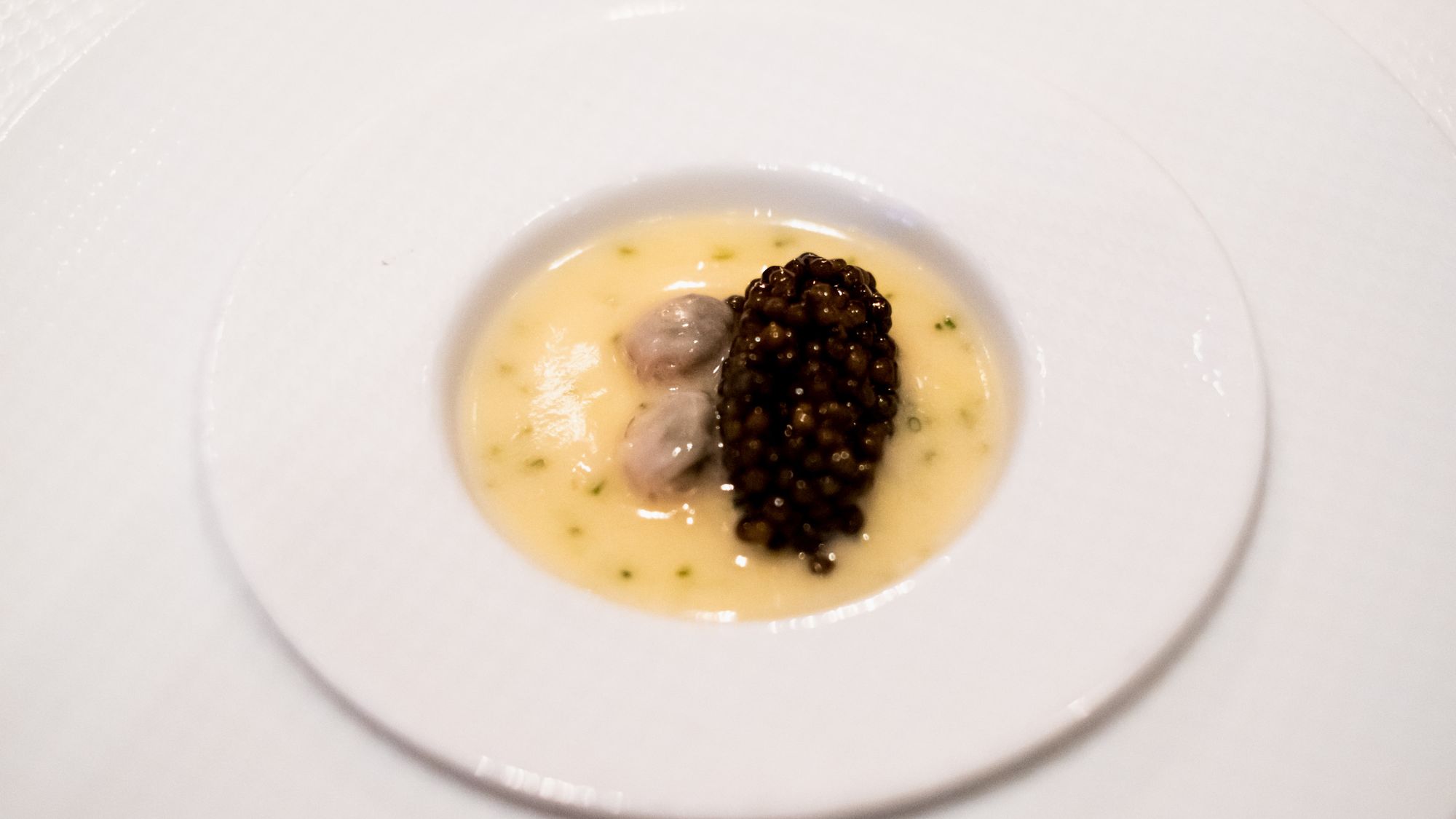 Lastly, dessert was served to conclude the dinner. To my surprise, "assortment of desserts" actually meant a lot of desserts and I absolutely loved it. My favorite was this cappuccino semifreddo with warm cream on top which I dipped Thomas Keller's signature donut holes in (where I come from, we call them Timbits). Originally, I thought it was mocha ice cream, but I got educated by my snobby food friend, and learned that it's actually called a cappuccino semifreddo. The soft and warm donut hole really went well with the cold and creamy texture of the cappuccino semifreddo. Additionally, the staff brought us an assortment of chocolates to pick and try. We ended up each taking 4 or more different types of chocolate to try. If you were truly shameless, you could just take the entire box home since they tell you to take as many as you want.
As we're getting ready to leave, the staff offered us a tour of the kitchen. She took us around and explained which each station did and the organization of the staff. The staff at the French Laundry were truly on another level. They were friendly, courteous, and always put the customer first without being pretentious. It's as simple as smiling and gesturing the guest to move through the hallway first, but it felt incredibly genuine. Finally, after the tour, we bid our farewells and we were given some shortbread cookies to take home.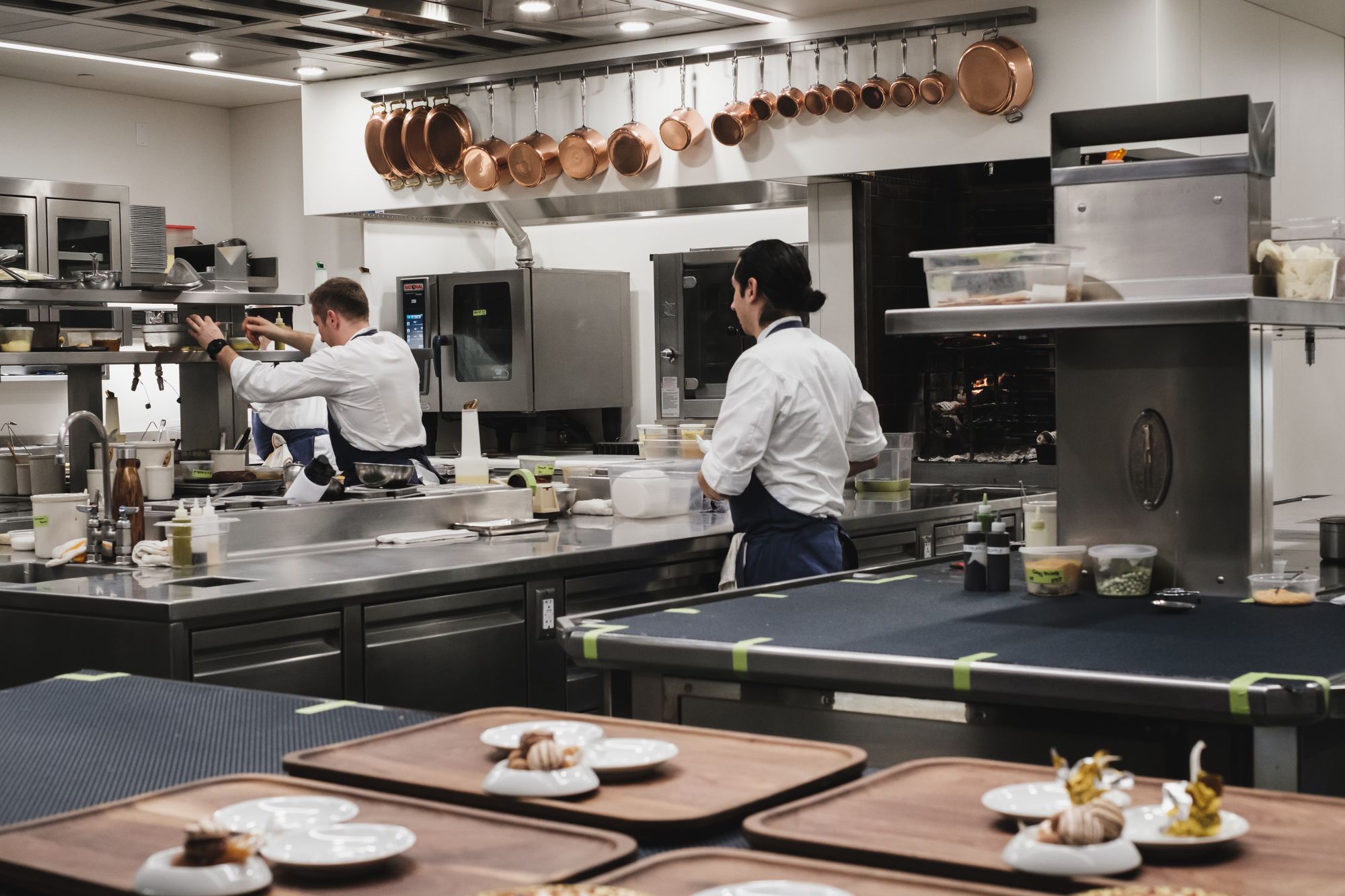 The two biggest questions many people are probably wondering is "was it worth it" and "would you go again". For reference, the meal was 350 USD per person after tax and tip. Personally, I went in with high expectations and I think it was worth it as those expectations were met. As to whether if I would go again, I would need to think about it more. It was truly a unique experience, and the food itself was exceptional. Unlike some other expensive restaurants, I felt like the French Laundry actually gave us a lot of food and made sure we were full. The reason I'm unsure about the second question is that I do believe I can get better tasting food at a lower price point. If I'm purely optimizing for taste, I probably wouldn't come back. Overall, it was a great night with great company. I lost my fancy food virginity and feel like I'm slowly becoming a foodie...
---