Before going into details, here's the exhaustive packing list for the two week trip:
The bag:
Toiletries:

Razor
Shampoo
Conditioner (for the girlfriend)
Body wash
Toothbrush
Toothpaste
Moisturizer
Contact lenses (daily)
Lip balm
Quick dry towel
Hand sanitizer

First aid:

Ibuprofen
Acetaminophen
Bandaids
Claritin
Sleep aid

Camera gear:

Fujifilm X-T20
Fujifilm XF 18-55mm f/2.8-4.0
Fujifilm XF 35mm f/1.4
Fujifilm XF 27mm f/2.8
JOBY GorillaPod
B+W 10 stop ND filter
Remote shutter release
Pen brush
Extra SD cards
Tenba BYOB Insert 9 (camera bag)

Electronics:

iPhone charger
International power adapter
Anker 20100mAh battery bank
Micro USB charger
USB-C charger
Nintendo Switch
Macbook Pro 15 inch
Macbook Pro charger

Clothes:

Underwear x5
Socks x5
T-Shirts x3
Tank top
Quick dry shirt
Swim trunks
Shorts

Other:

Eye mask
Ear plugs
Water bottle
Gonex 20L bag
Combination lock
Inflatable airplane pillow
International driving permit
USD in cash
Passport
Visa

What I'm wearing:

Keys
Belt
iPhone
Wallet
T-Shirt
Headphones
Sweatpants
Adidas Wandertag Jacket
Running shoes

What I might need to buy there:

Sunblock
Laundry detergent
Flip flops
Tissue packs
Umbrella
Last year during my 6 week grad trip, I brought too much stuff in so I had to bring two bags. It was such a pain to carry all my stuff from one location to the next. This time, I want to try a more minimalistic style of traveling by only bringing one bag.
Over the course of a few months, I went through numerous phases where I was obsessively trying to find the best bag for every day use and travel. I must've looked at a thousand bags. But in face of the crippling amount of options, I gave up and decided to get two bags - a bag for traveling and a bag for everyday use.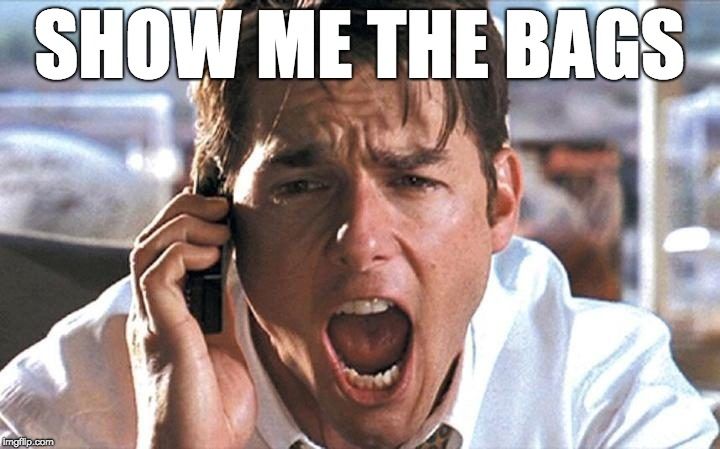 There are usually 3 main axes to evaluate when you're trying to buy a bag - aesthetics, price, utility. For a daypack, I optimized mainly for aesthetics and some utility. Following that criteria, I got the Topo Designs Daypack -  it is a minimalistic 20L bag with subtle design elements that make it quite aesthetic. However, buying a bag for one-bag travel was far more difficult. My criteria for the travel bag was:
25L-30L in capacity (utility)
some organizations pockets (utility)
comfortable to carry (utility)
not ugly (aesthetic)
You can find a variety of price vs utility and price vs aesthetics combinations, but I swear it's impossible to find a bag that meets the "not ugly" criteria (at least by my definition) while being semi-functional. Most of the well-reviewed travel bags are heavily compartmentalized and I find them a little over-engineered. Since the design is utility focused, they also turn out to be very boxy in shape (to maximize space and organization), which I find ugly when worn. Some examples of these include:
In the end, I pretty much gave up on my search and was just going to bring a duffel bag, until my girlfriend told me she had a 30% discount code for Adidas. It never occurred to me to look for bags at more common brands such as Adidas and Nike, since I didn't expect them to have excellent travel bags. However, with a 30% discount incentive, I decided to check Adidas, because how can anyone pass on a 30% discount at Adidas? To my surprise, I was able to find one that had enough utility for me, while still looking decent: Adidas Arctic Backpack.
This backpack features two large side pockets with buckle openings and two zipper pockets for small accessories (such as passport, phone, cables etc). The main compartment is top-loading which is closed by a drawstring and flap with two buckles. It also has a laptop pocket in the main compartment which is accessible by a separate backside zipper (not shown in the pictures), making the laptop easy to take out. Overall, I'm very happy with this bag considering it only cost 46 bucks. Here's a picture of the bag unpacked on my apartment floor:
Generally, when browsing online forums for packing lists for one-bag travel, I noticed many people have entire dedicated travel gear. They would have entire outfits made of merino wool or specialized clothing material targeted towards the destination's humidity and temperature. Honestly, I'm just too lazy and it's too much money to get dedicated clothes, so I just bring my normal clothes.
Most items in my packing list are pretty self-explanatory, but I'll go over some of the items. I anticipated being able to do laundry at least once, so I am bringing 5 sets of clothing total (6 if including my outfit). This means I would have to wash my clothes at least once the entire trip. For camera gear, I think I'm overdoing it with the number of lenses as well the long exposure equipment (tripod, ND filter, remote shutter release). But, I don't want to FOMO on a shot, so I'll just bring everything. I'll find out what camera gear is actually useful from this trip, and slim down for future trips. I always bring eye mask and earplugs on trips nowadays since I find them incredibly useful for getting good sleep in bad conditions.
Now, I tried to fit the packing list items into the bag. I packed all my toiletry and first aid stuff into a Muji toiletry bag:
All my camera gear, minus the gorilla pod, went into the Tenba BYOB 9. There was still a decent amount of space left in the Tenba, but I decided to leave it as is to keep everything more organized. The Fujifilm X-T20 and XF 27mm f/2.8 was used to take this photo and thus is not shown in the photo.
Finally, with everything laid out, I started packing my main bag.
Right buckle pocket: inflatable airplane pillow (bottom right)
Left buckle pocket: chargers and battery bank
Top zipper pocket: lip balm, hand sanitizer, and eye mask
Bottom zipper pocket: passport, international driving license, cash
Main compartment: everything else
With everything packed, there was just enough space left to stuff another jacket and long pants. Here's a picture of the bag packed on my apartment floor:
With everything packed, I'm ready to take off. I'll comment more on my one-bag travel experience after I come back from the trip!
POST TRIP UPDATE:
Clothes
5 sets of clothes were definitely too much, I only ended up needing maybe like 3 sets given how often we were able to do laundry. I think 3 or 4 sets of clothes would've been enough.
Electronics
The Macbook Pro was my work laptop and just prior to departure I learned that I can't use my work laptop in China. The laptop and charger just became 5lb deadweight for the entire trip. Good exercise, I guess. I think next time I replace my personal laptop, I'd like to get a Macbook Air which is great for travel since it's two pounds lighter and a lot smaller. Next, I thought that I'd be playing my Nintendo Switch during the airplane ride and other commute times. In reality, I just ended up catching up on movies and sleeping during in those situations. I probably won't be bringing my Switch on future travel trips.
Camera
As anticipated, I did not take any long exposures with my camera, resulting in all the long exposure equipment useless. The zoom lens also didn't see high utilization compared to the two prime lenses. However, since I deeply care about photography, I don't think I'd change my camera equipment list. There were definitely locations to take long exposures, I was just restricted on time and also limited by weather.
TL;DR
The bag was very comfortable to use throughout the trip and I will definitely be using this bag for future one bag travels. The key take away from my experience here is that expensive doesn't always necessarily mean good fit. There are countless number of hipster websites that just review fancy bags and gloss over the common brands. After using this bag as well as checking out the fancier bags, I find this Adidas bag to outperform many of the bags people rave about.
---